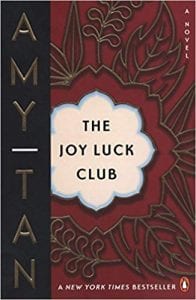 The Joy Luck Club by Amy Tan
From what I have picked up so far, it seems like as the main character tries to fill her late mother' shoes, she realizes that she did not know her mother as well as she thought she did. With the help of her father, aunts, cousins, friends, and other relatives, June will connect with family members from around the globe. So far, I like that at the beginning of the book, Amy Tan would introduce a character, then give a description and a bit of a backstory or that character. It makes the book clear when stories are being told by the characters and it makes the book easy to follow. I also like that the chapters are split up into different sections and that each title includes the name of a character as well as a chapter title. Though I am only roughly forty pages into this book, it has been enjoyable and intriguing thus far.
So far, the tone at the beginning of the book is somber. Tan creates this tone by introducing the book with an anecdote, being told from the eyes of June's mother. The authors then goes on to inform the reader that the mother has been dead for months. Still, at the start of the book, the author continues to build up this character, sharing about her personality and life. Since we already know that June's mother is dead, there is an empty feeling as the reading goes on, due to the fact that the mother will be a static character in this story.